Mayhem in Monsterland 25th Anniversary Edition (C64)
Toimitusaika
1 - 2 työpäivää
** NOW AVAILABLE! **
It's hard to believe it has been 25 years since one of the finest platform games ever to grace the Commodore 64 was released. Back in 1993 Mayhem In Monsterland astonished C64 owners with it's incredibly fast super-smooth scrolling, cartoon style graphics and super-slick gameplay. And now, 25 years later, Psytronik Software in association with www.infinitelives.tv is extremely proud to present the MAYHEM IN MONSTERLAND - 25th Anniversary Edition!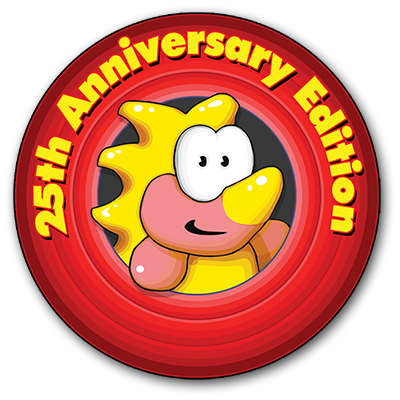 The Premium Plus disk version of MAYHEM IN MONSTERLAND - 25th Anniversary Edition is presented in a clear plastic case featuring professionally printed full colour artwork. The floppy disk is presented in a glossy disk sleeve with full colour vinyl label.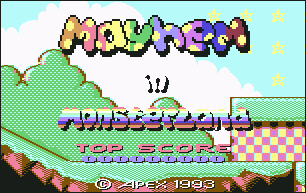 ** MAYHEM IN MONSTERLAND STORY **
Mayhem didn't enjoy living in Monsterland; it was always cold, it was always windy, and it rained every Sunday. It was clearly no place for a cute baby dinosaur.
However, rumour has it that Monsterland has not always been such an unpleasant place to live. The sun used to shine onto green fields with luscious vegetation and scenic mountains... until an apprentice magic dinosaur had too much cactus juice and decided to practice a few of his master's spells. the next morning, when all the monsters awoke, Monsterland had been transformed into a very dark and unhappy place. Mayhem wants to change Monsterland back, but has no magic powers to do this, so he enlists the help of his friend Theo Saurus, the dinosaur responsible for Monsterland's ghastly state. Theo lives below Monsterland in a hidden cave to avoid the wrath of the monsters - here he waits for Mayhem to collect magic dust. With this in his possession, he flies across Monsterland sprinkling the magic dust in order to transform it back to a happy place.
However, because Theo is only a trainee, his magic doesn't always work as well as he'd like it to. Some of the magic dust that he spreads over Monsterland is a little excessive, and clumps together to form magic stars. This magic could be dangerous in the wrong hands, so Mayhem must collect any magic stars he finds to prevent any further disasters.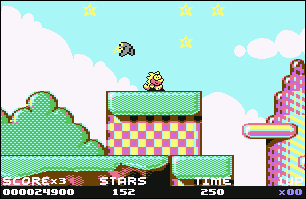 ** MAYHEM IN MONSTERLAND GAME FEATURES **
• Full Colour Glossy Artwork!
• Incredible Full-Screen Scrolling!
• Interactive Sound!
• Non-Standard C64 Colours!
• Bonus MC Mayhem Music Demos!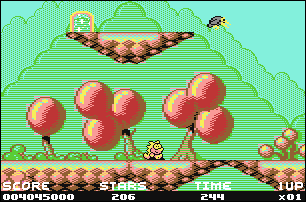 ** MAYHEM IN MONSTERLAND GAME CREDITS **
Conceived, designed, and created by
APEX COMPUTER PRODUCTIONS
Design and programming by
JOHN 'ICE-TNT' ROWLANDS
Design, graphics, music and SFX by
STEVE 'JACK D' ROWLANDS
Additional design, code, and playtesting by
ANDY 'SPECIAL K' ROBERTS
Anniversary edition artwork by
JASON 'KENZ' MACKENZIE
Ultra jumbo-sized shout-outs to:
TRACY, CHRISTINA, ANDY, ROB, KERRY, JAMES, GUY (THE BOYZ), TRU & PHIL, OLLIE, TRENTY, CLUR, HUTCH AND DAVE.
Special thanks to Mr and Mrs Rowlands, without whose help this game would not have been possible.
Thanks from Psytronik to:
RICHARD BAYLISS (Tape Remastering), JASON KELK (Disk Menus), JON WELLS (Lives Bug Fix), JOHN & STEVE ROWLANDS (Help & Support)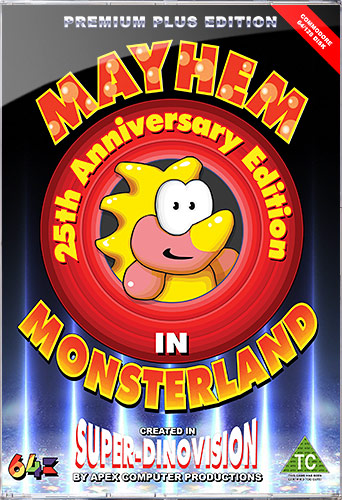 "Stonking game by absolutely anybody's standards - 100%" (Commodore Format)